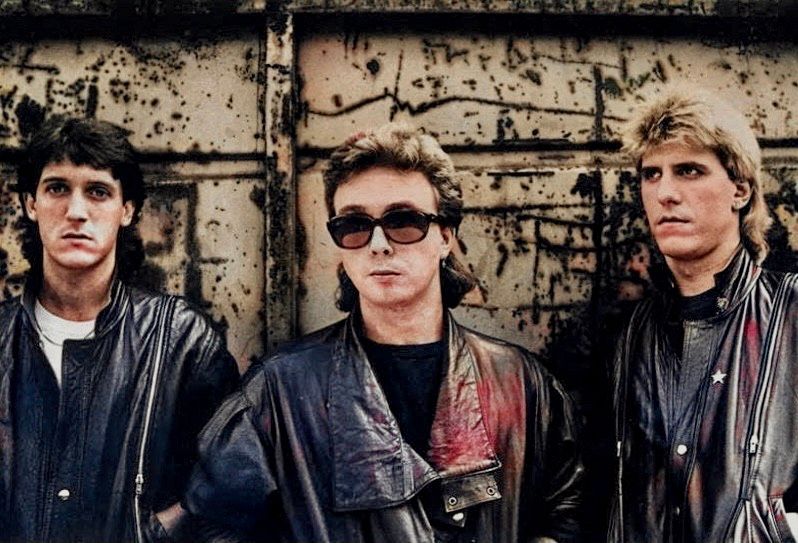 Greetings Outfield fans, 
We wanted to give a brief insight into the upcoming tracks from the album 'Final Innings'. The Outfield archive is vast and spread across different recording formats. This unfortunately removed the ability to return to a studio environment and remix songs. With this in mind, apart from volume parity adjustments tracks remain faithful to the original source material.
Please note, the years mentioned below relate to the date the mix was completed and we are aware that some tracks may have been recorded at an earlier time. 
There have been numerous requests for a CD release and we are listening.  At this time the album will be digital only.  
We really hope you enjoy the album and stay safe,
The Outfield Team
1. Sunday Morning (2012) 
This short guitar track was an idea that Grahame Leslie played to John over the phone. John built upon the concept to create this calm, instrumental intro for the album. 
Grahame recalls "Here's a little tune I played to John over the phone and he loved it! I sent him a recording and he played the wonderful guitar melody over it. Alas, we never got to master it, but it captures a very special moment and memory". 
2. Rollercoaster (1994) 
'Rollercoaster' has been around for a long time and will be familiar to veteran fans. It was considered for previous albums however was overlooked as its intensity didn't necessarily fit the bands sound. We felt it made an energetic opening for this album. 
3. Colosseum (2012) 
Tony and John would speak daily discussing sports and debating world affairs. 'Colosseum' reflects how John saw the changing world and the lyrics stand true today. The band were never political and show no allegiance to any side. It was originally titled 'i-Reality' and changed to 'Colosseum' in 2012. 
4. This Life is Your Life (1999) 
The band worked hard on this track and wanted an anthem that embraced life. After much development it sadly found itself in the archives and was rediscovered during the creation of 'Final Innings'. It's a song about self belief and making tough future decisions. 
5. Look at Me Now (2008) 
This track was previously called 'Pole Dancer' due to its provocative tone. It has a foot taping beat, edgy story and a catchy chorus loyal to The Outfield's trademark sound. It is best played loud at dusk with a cool drink in hand. 
6. Secret World (1994) 
The phone ringing at the beginning of this track was the dining room phone in the Spinks household. It would ring constantly and gave John the idea for the song 'Secret World'.  He used a long cable from his studio with a microphone at the end, dangling it from the top of the stairs to capture the sound. 
7. Someone Like Me (1994) 
This was a lost track that has only one entry in the archives. It is unclear why it was never used before as it ticks every Outfield box. Luckily, this track still sounds fresh and people have already messaged us following the release of the promo video excited to listen to the song in its entirety. 
8. Don't Forget Me (When I'm Gone) (2008) 
This track is not the final version that may have been heard in the past. John would sometimes record a guide vocal that he would send to Tony to sing over, thus creating harmonies. This demo version was found attached to an email sent to John's son Lee and has an energy that the finished version lacked. 
9. Suburbia (2008) 
A melodic and catchy song that saw the band slow down a little and incorporate piano to add texture. It's a story of living in a suburban town and the memories of the people that surround us from all walks of life. The rainfall heard in the intro is a nod to British weather. 
10. Money Can't Buy Me (1998) 
Recorded as part of the 'It Ain't Over' era this came so close to making the album. It was deemed a little contentious lyrically and unfortunately side lined. Also, its darker tone didn't fit the traditional Outfield template. 
11. Truth (2014) 
'Truth' was the final Outfield song recorded and completed three months before John passed away.  A believer of extra-terrestrial life and conspiracy theories he would sarcastically say "The truth is only what they tell us".  1 minute 50 seconds into the track John's guitar playing mimics alien voices.
12. Savannah (2013) 
This began as a jam track when the original band reformed in 2010. Words were added and the song completed in 2013. A video was recorded for the song and a small sample was available on the legacy Outfield website. The entire video will be uploaded to the new site in the future. 
13. Seven Days (2004) 
This was a limited online release from the album 'Any Time Now' whilst it was under development. It didn't make the final cut, but fans have requested its re-release and we are happy to include the track on this album. 
14. To Be With You (2004) 
This was also part of the 'Any Time Now' era and like 'Seven Days' was available online for a limited period of time. It recounts the story of true love and the importance of a soul mate. The inspiration for the track was John's wife Jean who requested this song be added to the album. 
15. Baby I'm Crazy (2011)
One of the most requested tracks by fans. It's a mash up of Rolling Stones and Led Zeppelin both of whom the band admired and used as inspiration. We found more archived versions of this track than any other, but picked this one for its energy and almost live performance vibe. 
16. Sweet Soul Music (2010) 
'Sweet Soul Music' was one of the early 'RePlay' tracks, however as other songs came along it was pushed back. We were unable to find an uncompressed version of this track, but its essence remains intact. Here, it brings an end to this album, but The Outfield's music will live forever.